Hot briquetting iron
Thanks to the experience obtained from the 1970's, to 2000's in the hot briquetting of Waelz oxides (up to 650°C), phosphate (up to 1050°C) and sponge iron for Hot Compacting Iron process (up to 850°C), then
SAHUT-CONREUR
has developed a range of equipment specifically adapted to the Hot Briquetting Iron (HBI) made by direct reduction of iron ore (DRI).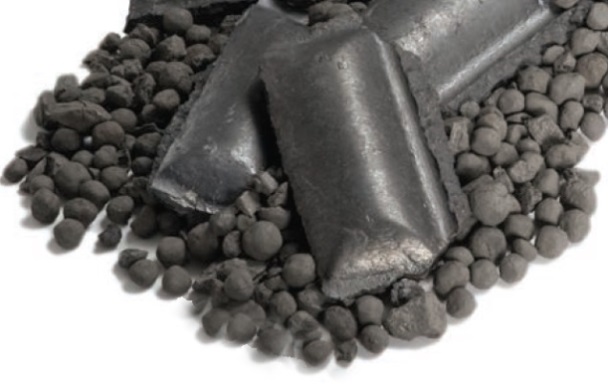 This concept, which consists of reducing iron oxide, i.e. removing oxygen, is commonly used by the iron and steel industry to obtain molten metal. Because of its reduction to oxygen, the iron obtained in the form of DRI has a very porous structure, hence its name (sponge iron); it tends to re-oxidize rapidly, which creates risks of flammability and therefore makes it difficult to handle and transport in its raw form.


The hot briquetting process of DRI is designed to eliminate these risks of flammability by reducing the porosity and therefore the surface in contact with the surrounding environment and which would be likely to react with the humidity contained in this environment.

Hot briquetting is a reliable and recognized process (complied with IMO standards and regulations) for the passivation of sponge iron, which allows to obtain a safe, easily handled, storable and transportable product.
The DRI conversion into HBI offers the following advantages:
No change in chemical analysis and minimal loss of metallization, even after long-term storage.
Compared to steel scrap, HBI has a high bulk density of about 2.6 t/m3 which improves performance in the smelting process and also offers a very low content of undesirable chemical elements such as Cu, Ni, Cr, Mo, Sn and S. In addition, its high density (4.7 - 5 t/m3) gives it a structure that enables it to resist breakage.
Outdoor storage of the briquettes without risk in the rain and without the need for inertization as it is the case with DRI.
Hot briquetting iron (HBI) is a top quality raw material for the manufacture of steel which contains more than 90% total iron (Fe) in almost pure form and is used in the blast furnace (BF,BOF) and electric arc furnace (EAF).
High thermal and electrical conductivity of the briquettes and low reactivity with fresh and salt water.
Minimal risk of overheating during storage and transport. Makes transport safer compared to cold DRI. Sea transport of the briquettes complies with IMO standards and regulations.
HBI facilitates shipping, storage and feeding of briquettes fed from hoppers.
Reduced and uniform size of the product (facilitates the loading of the oven).
It consists of transforming the DRI particles into briquettes (HBI) with different dimensions and volumes (from 60 to 200 cm3). The DRI particles are directly briquetted at the exit of the reduction process by means of a hot briquetting press.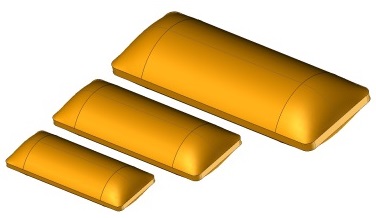 This process takes place at high temperature, approx. 750°C, with a very high briquetting pressure up to 180 kN/cmL. On the outlet of the press, the briquetted strips are conveyed to a separator consisting mainly of a rotor with "impact bars", which separates the briquettes strips into single briquettes.
The hot briquetting press and separator are the key components of a hot sponge iron briquetting plant.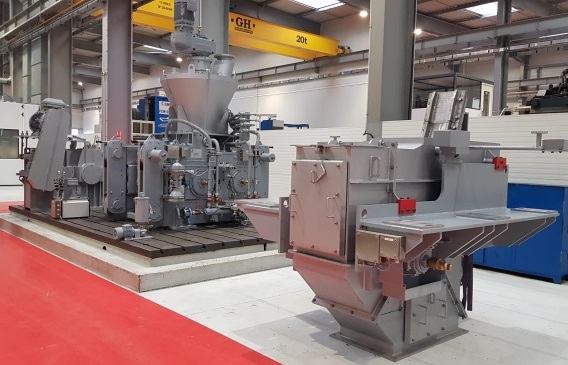 A screen and bucket elevator can be added to this equipment to remove and redirect the fines produced during the briquetting process to the press for recycling (Hot Fines Recycle system).

A quench cooler tank (static or vibratory design) is placed at the end of the HBI unit to collect the briquettes from the upstream equipment and cool down the HBI briquettes under 80-100°C.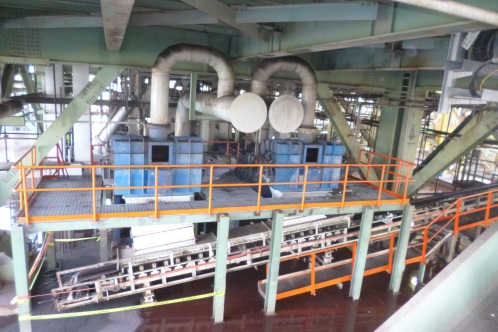 Hereafter a typical flowsheet of a HBI unit with 4 lines (1 in stand-by) from the outlet of the shaft furnace up to the cooled briquettes discharge outlet. This unit can reach for a net briquettes capacity up to approx. 225 TPH (total annual capacity approx. 1.7 MTPY)
A complete range of HBI equipment
For this type of HBI plant,
SAHUT-CONREUR
is able to design and manufacture/supply the following equipment.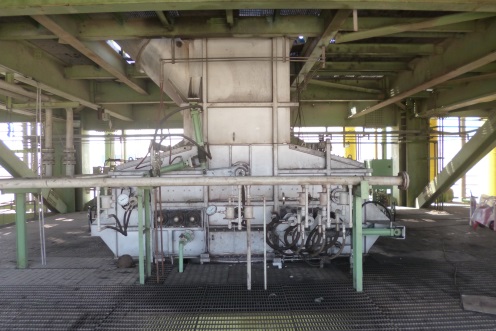 Product Discharge Chamber (PDC)
Feed legs
Ball valves
Compensators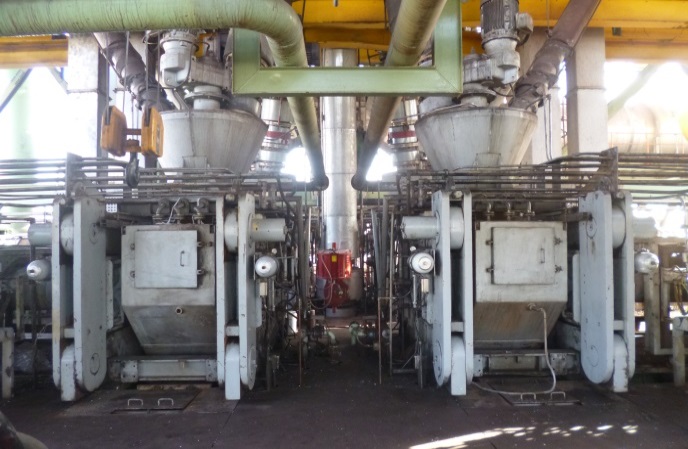 Hot Briquetting presses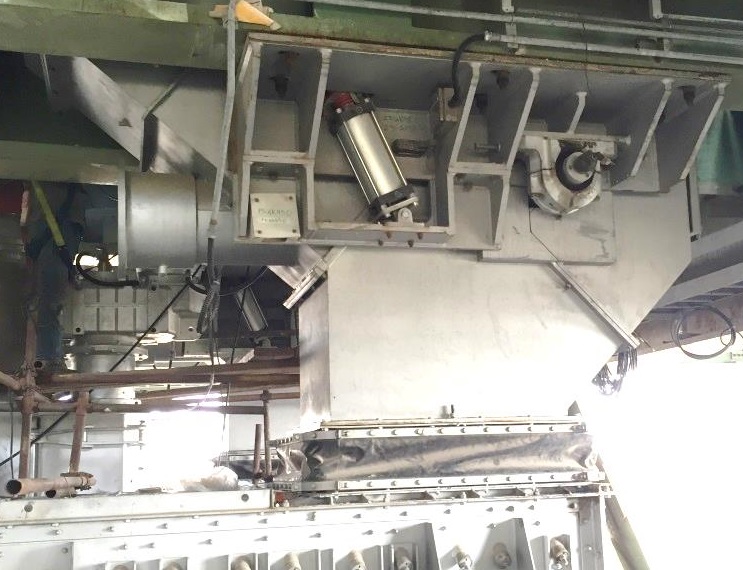 Separators
Screens
Hot Fines Recycle (HFR) - Bucket elevators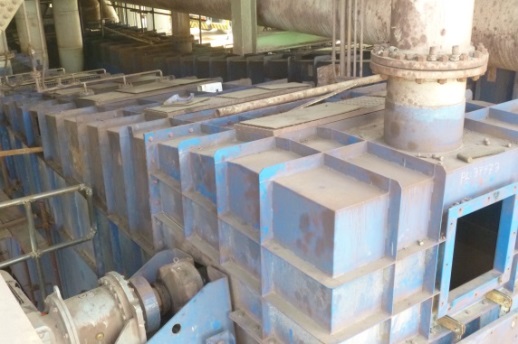 Static quench tanks
Vibratory quench tanks
Crossing chutes
Divider feeder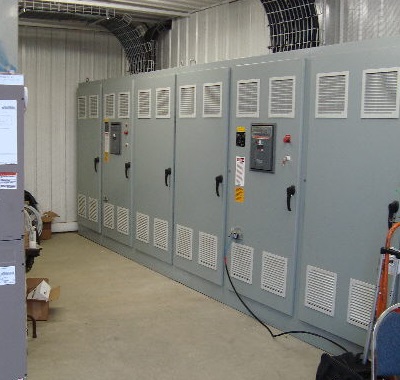 Motor Control Center (MCC)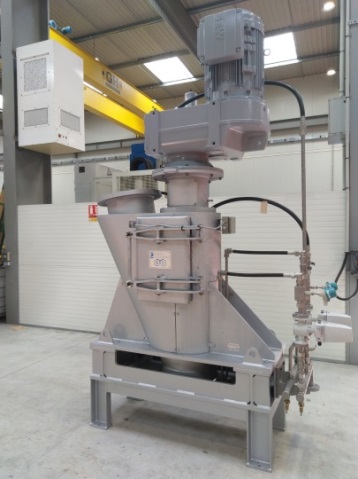 Screw by-pass feeder (HDRI)
Control-drive cabinet / Supervisory Control
End-users' satisfaction with our HBI equipment