History
160 years of constant research and innovation.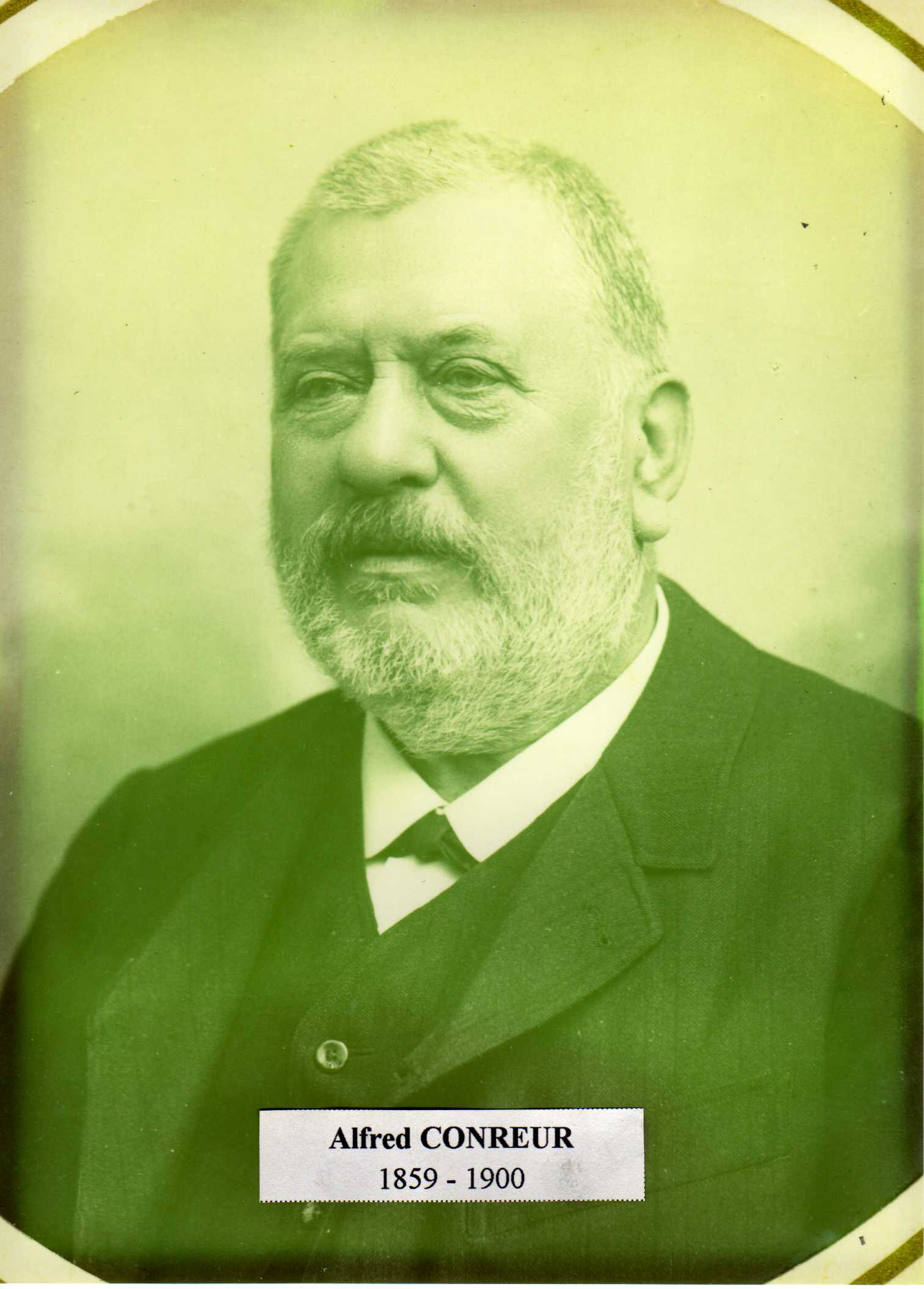 Alfred CONREUR
SAHUT-CONREUR's workshop in 1905
The
SAHUT-CONREUR
story's started in 1859 when Mr Alfred CONREUR established a mechanical workshop in Raismes (North of France) mainly dedicated to the sugar industry and rapidly since the last decades of the 19th century,
SAHUT-CONREUR
has been then specialized in the design and the construction of coal briquetting plants using double roll presses.
In the beginning of the 1950's and to front the decrease of the domestic coal request, the company expanded its double roll press technology to new fields of applications relating to a variety of industries : chemical, food , iron and steel, metallurgical, nuclear, ores and minerals, pharmaceutical… and many other powder processing industries with briquetting requirement.
During the 1970's,
SAHUT-CONREUR
developed the compaction–granulation process using the double roll press technology, initially for potash product (one of the main fertilizers components) and then for fertilizers themselves and later for many other materials such as iron and steel, mineral, metallurgical, chemical, nuclear and food industries.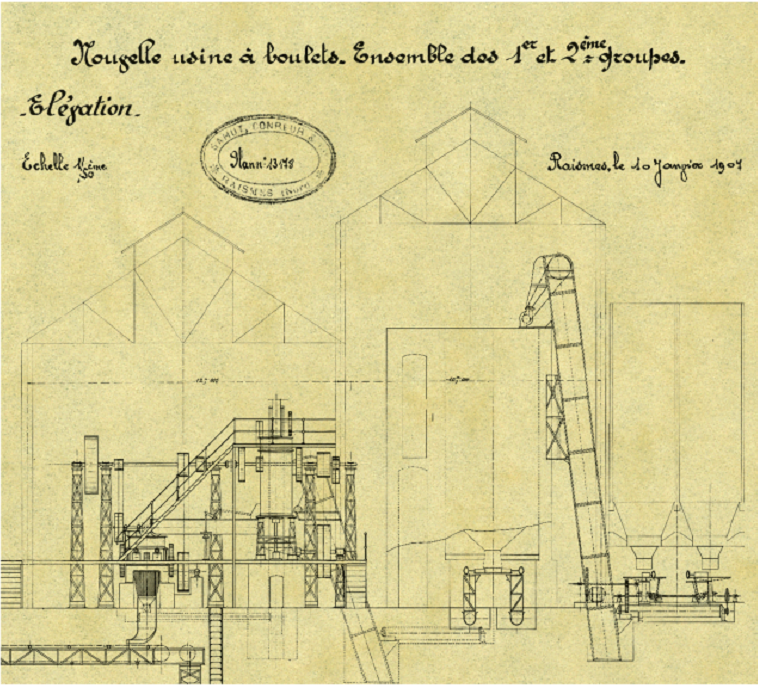 Coal briquetting lines in 1907
In addition to the double roll presses, the company continuously developed a range of additional and complementary equipment specifically adapted to the requirements of the briquetting and the compaction-granulation processes: mixers, pug-mills, flake-breakers, hammer-mills, crushers-granulators, polishing drums etc…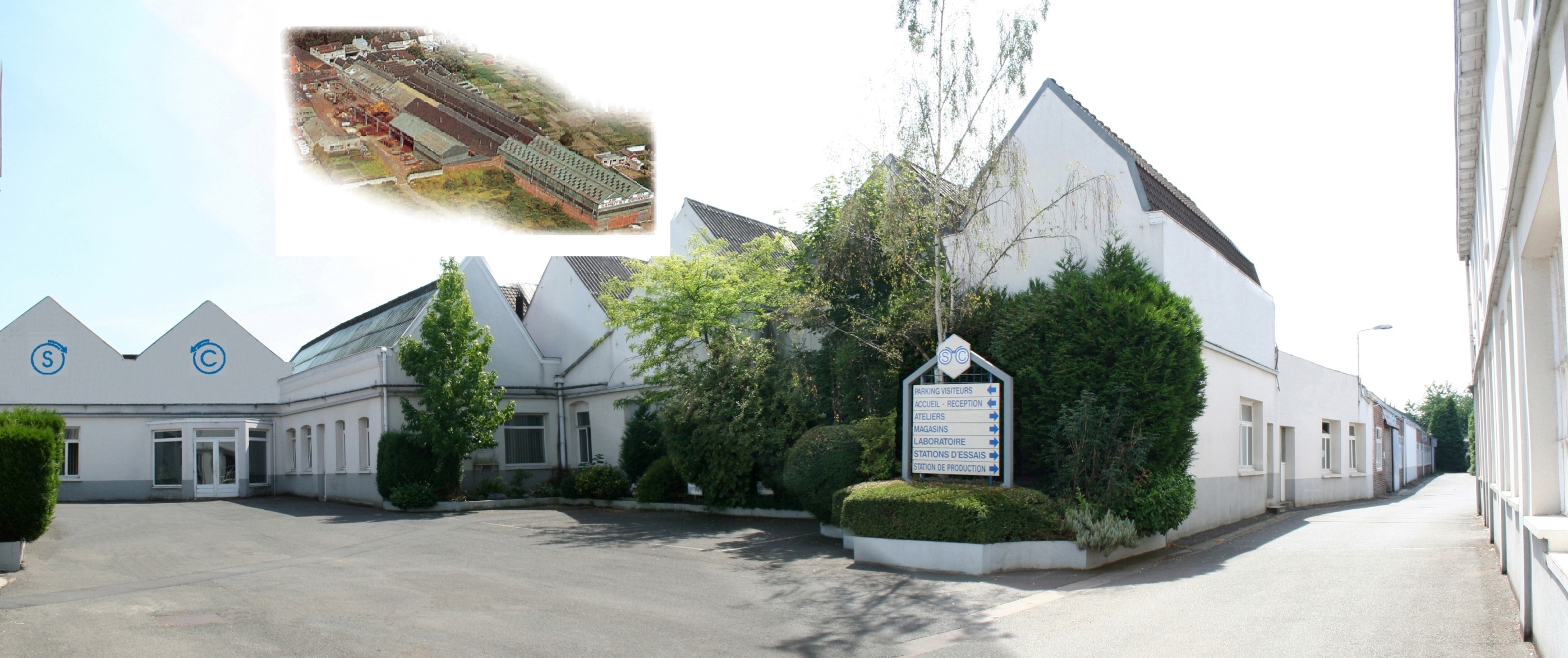 SAHUT-CONREUR's facilities up to 2017
In the 1980's, the company extended the use of the roll presses to the grinding by offering the double roller press. Thanks to this range of equipment,
SAHUT-CONREUR
began to be able to satisfy customer wishing to install reliable and economical equipment in fields of applications such as cement/clinker, painting pigments, iron ore or isolating material.
The 1990's marked the arrival of a new range of pilot equipment made by
SAHUT-CONREUR
specifically adapted to the requirement of R&D and laboratory equipment.
In the beginning of the 2000's,
SAHUT-CONREUR
introduced an innovating concept to the steelmaking industry. This new concept called H.C.I (Hot Compacting Iron) supported by the South Korean steel-maker leading company Posco opened a new area in the story of
SAHUT-CONREUR
. In the same time,
SAHUT-CONREUR
developed its own alternative range of equipment for H.B.I process (Hot Briquetting Iron).
In 2017, the company moved to its new facilities now implanted in La Sentinelle (North of France) and doted of a modern and advanced technology production tools which allows
SAHUT-CONREUR
to combine high quality level and efficient manufacturing cost on its equipment.

After 160 years of existence and approx. 1000 rolls presses and compactors delivered in the world,
SAHUT-CONREUR
is recognized as one of the world leaders in the design and construction of briquetting, compaction - granulation and grinding plants.
SAHUT-CONREUR KEY DATES
1892 : First coal briquetting press
1936 : First briquetting press for chemical product
1968 : First compactor for potash industry - 100 MT/h
1970 : First compaction-granulation NPK Fertilizers plant - 40 MT/h
1982 : First briquetting press for hot product at 1000°C (1800°F)
1987 : First roller press for the clinker industry
1997 : First micro-compactor
2002 : First compactor for Hot Compacting Iron (HCI)
2005 : First briquetting press for Hot Briquetting Iron (HBI)
2010 : First complete HBI plant - 188 MT/h
2013 : First compactor for potash industry - 140 MT/h
2015 : First briquetting press for round fertilizers granules - 5 MT/h
2016 : First complete CBSI plant - 44 MT/h
2017 : Moving to new facilities
2019 : First HBI pilot plant using no fossil fuels