Engineering department
Source of creativity
The engineering department consists of engineers and industry experts who not only know how to design the equipment, but also they understand the needs in the field of processing of materials from beginning to end. This department draws up the preliminary project drawings and establish the budget offer.
This department provides customers with important services ensuring the integration of equipment into the process in each application and ensuring that the material meets the required specifications.
The technological design team provides professional, convenient and high-quality service and support that complements the activities of the customer service department and represents a useful experience for the customer.
SAHUT-CONREUR
is ready to help at all stages, from the early stage of plant development to after-sales service and technical support, implementing a long-term approach to product support.
The process engineering team, which is directly responsible for all product innovations, assesses the need for new product development. They create and adopt new ideas that meet market needs and implement rational processes, which allows
SAHUT-CONREUR
to offer its customers comprehensive solutions.
Equipped with 3D CAD Softwares and its skilled technicians and engineers, this department realises the design of the plants and their key-equipment (crusher, dryer, mixer, press, granulator, polishing-coating drums, screen, packing, handling and storage equipment). This division is also in charge of the basic engineering for the control/automation of these plants.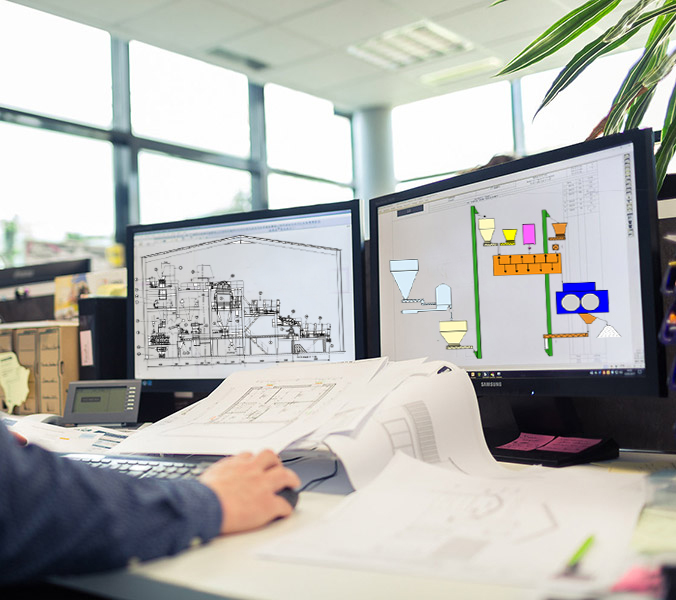 A complete engineering service
SAHUT-CONREUR
can provide the following package:
Process flow sheet of the plant.
Mass flow diagram.
Technical description of the process.
List of equipment with flow diagram.
General arrangement drawing of the plant.
Drawing of each plant level with static and dynamic loads.
Structural design in some cases according to the legislation.
Possibility to integrate the seismic situation if any.
Overall dimensions of the building.
Service platforms, access floors, run way and stairs.
Utilities specifications and consumptions.
Quality control and testing manual (Q.C.T.M).
Erection, pre-commissioning and commissioning manual of the equipment.
P&ID and functional analysis of the plant.
Motors and instruments lists.
Single line electrical diagrams.
Start-up, shut-down and emergency stop procedures.
Safety instructions.
ATEX certification of our equipment